PRODUCT FEATURES
Security and comfort rolled into one discounted package. That's what you get when you bundle the ENERGY STAR® certified 3rd Gen Nest Learning Thermostat with the Nest Indoor Security Camera. Control the temperature of your home and keep an eye on your home—all from the palm of your hand with the Nest app. 

PRODUCT BENEFITS
Meet the 3rd Gen Nest Learning Thermostat™ in classic Stainless Steel
The Nest Thermostat programs itself, automatically helps you save energy when you're away and can be controlled from anywhere. And now the 3rd gen Nest Thermostat is thinner, sleeker and more beautiful than ever. The display is even bigger and sharper.

Farsight
When Nest spots you across the room, it lights up to show you the time or the temperature you set.

Nest Leaf
The Nest Leaf appears on the display or in the Nest app when you choose an energy-saving temperature.

Auto-Schedule
No more confusing programming. Nest learns the temperatures you like and builds a personalized schedule for your home.

Home/Away Assist
Don't waste energy heating or cooling an empty home. Nest automatically saves energy when you're away.

Airwave
This unique technology helps you use less air conditioning while staying perfectly cool.

Remote Control
Change the temperature from anywhere with your smartphone, tablet or laptop.
Multiple Color Options
Get this 3rd Gen Nest + Indoor Security Camera bundle in Stainless Steel, Copper, White or Black!
---
Indoor Security Camera
Plug-in-and-go security
Nest Cam Indoor stands watch 24/7. It can send an alert when it detects activity. It's quick and easy to install. And it lets you talk back through the Nest app. This is what an indoor security camera should be.
24/7 live video
130° wide-angle view shows your home in super clear 1080p HD, day and night.
Get alerts on your phone
Get alerts when there's activity, and see a snapshot of the last three hours in the Nest app.
Listen in and talk back
Tell the dog to get off the couch, or speak up to get a stranger's attention.
Don't Miss a Thing with Nest Aware
Starting at $10 a month, Nest Aware gives you more intelligent alerts and up to 30 days of continuous cloud recording. And you automatically get a free trial.
Person Alerts
Get a special alert when Nest Cam sees a person, like if someone's in the room.
Find what you're looking for
Quickly find key moments in Sightline. And speed through the rest.
Record everything
10- or 30-day video history saves everything.
INSTALLATION
3rd Gen Nest
Before you purchase the Nest Learning Thermostat, please make sure that your heating and cooling system(s) are compatible. You can easily check your HVAC compatibility by using our thermostat buyer's guide.
What's in the Box
C-wire is not required
A c-wire (also referred to as a common wire) is a low voltage power wire that many modern thermostats require for their features to work.
This Nest Learning Thermostat does not require a c-wire to work. Nest has a built-in battery that can be charged using the heating and cooling wires.
Nest however recommends that you connect a c-wire if you already have one. To determine if you have a c-wire, please remove your old thermostat's cover plate. You should see several wire terminals labeled with letters. If a wire is connected to the "C" terminal, you have a c-wire.
Indoor Security Camera
The Nest Cam is easy to install and can be set up anywhere in your home. It plugs in so you'll never have to worry about it running out of power.
What's in the Box
Stand
Wall-mounting plate
Power adapter
Built-in magnet.
You've got the power to set it down on something flat, like a table or shelf, stick it to something metallic, use the removable wall plate to attach Nest Cam to a wall or screw Nest Cam directly onto standard mounts or tripods (not included). The world is your oyster.
Related Products
A ring color for every home
The Nest Thermostat has a ring to fit any home's style. Choose from our four 3rd Gen Nest + Indoor Security Camera bundles. Choose copper to add a warm touch. Stainless steel is perfect for a classic, versatile look. Black blends in with dark walls and stylish decor. And white looks great in simple, modern homes.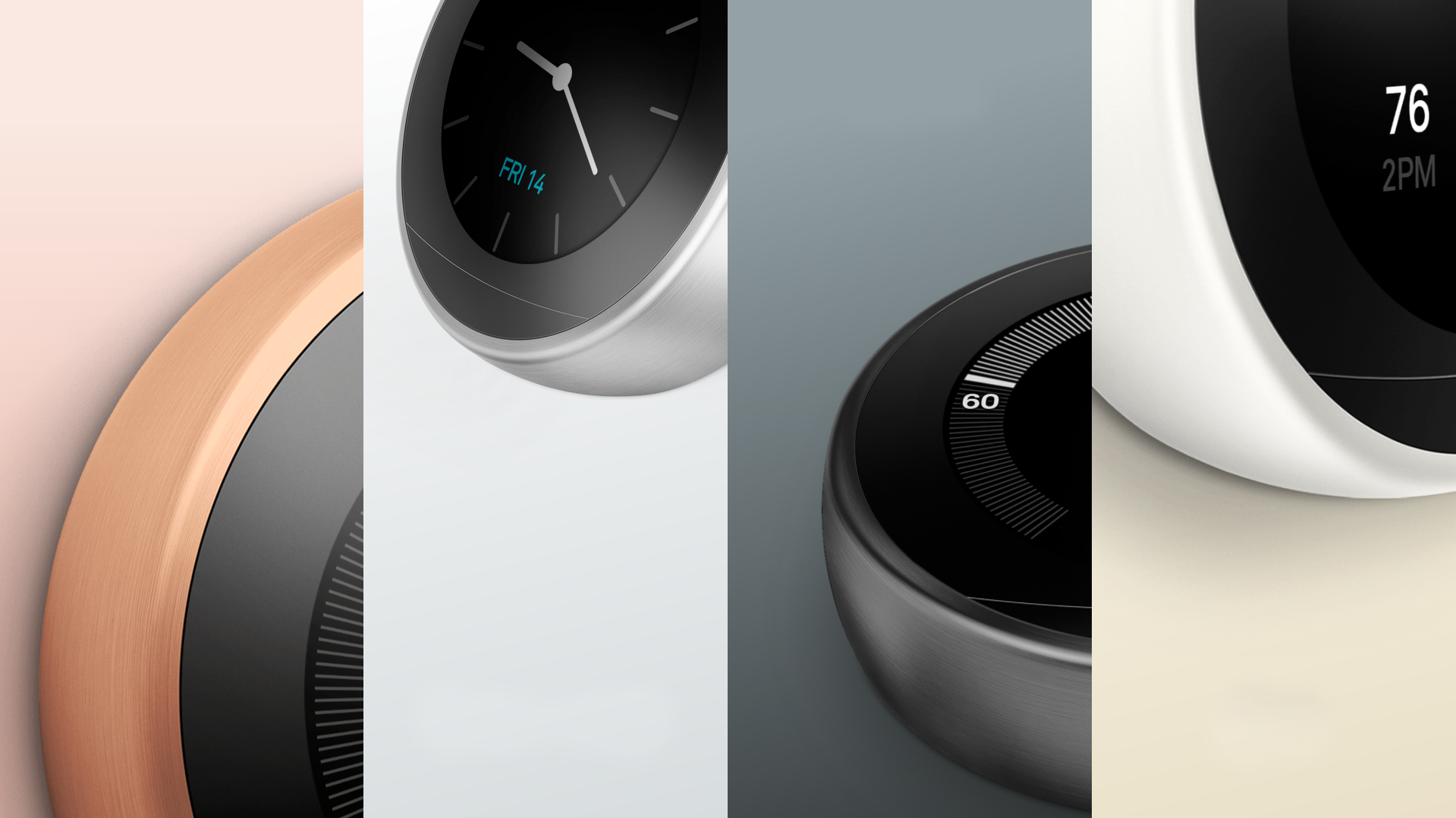 REBATE DETAILS
No rebates available