PRODUCT FEATURES
The Right Temperature, Right Where You Want It
Nest thermostats come with advanced temperature sensors and algorithms built in. They're designed to help keep you comfortable, but thermostats aren't always installed in the best location. For instance, your thermostat might be tucked away in a closet, or mounted in a drafty hallway. The baby's room get too cold? With the Nest Temperature Sensor, you can control the temperature of certain rooms in your home during specific times of the day. Just place it on a wall or shelf and get the right temperature, right where you want it. 
Product Benefits
Meet the 3rd Gen Nest Learning Thermostat™ in classic Stainless Steel 
The Nest Thermostat programs itself, automatically helps you save energy when you're away and can be controlled from anywhere. And now the 3rd gen Nest Thermostat is thinner, sleeker and more beautiful than ever. The display is even bigger and sharper.

Farsight
When Nest spots you across the room, it lights up to show you the time or the temperature you set.

Nest Leaf
The Nest Leaf appears on the display or in the Nest app when you choose an energy-saving temperature.

Auto-Schedule
No more confusing programming. Nest learns the temperatures you like and builds a personalized schedule for your home.

Home/Away Assist
Don't waste energy heating or cooling an empty home. Nest automatically saves energy when you're away.

Airwave
This unique technology helps you use less air conditioning while staying perfectly cool.

Remote Control
Change the temperature from anywhere with your smartphone, tablet or laptop.
Multiple Color Options
Get this 3rd Gen Nest + Sensor bundle in Stainless Steel, Copper, White or Black!
The Nest Thermostat works in most homes with low voltage systems — make sure it'll work in yours. Most people install it themselves in 30 minutes or less.
---
Meet the Nest Sensor
Sync with your 3rd gen Nest Learning Thermostat or Nest Thermostat E.
Set specific rooms to the exact temperature you want.
Put temperature sensors in different rooms and choose which rooms to prioritize and when.
Place your sensor on a wall or shelf and set it up in the Nest app. Then, forget it's even there.
Installation
3rd Gen Nest
Before you purchase the Nest Learning Thermostat, please make sure that your heating and cooling system(s) are compatible. You can easily check your HVAC compatibility by using our thermostat buyer's guide.
What's in the Box
C-wire is not required
A c-wire (also referred to as a common wire) is a low voltage power wire that many modern thermostats require for their features to work.
This Nest Learning Thermostat does not require a c-wire to work. Nest has a built-in battery that can be charged using the heating and cooling wires.
Nest however recommends that you connect a c-wire if you already have one. To determine if you have a c-wire, please remove your old thermostat's cover plate. You should see several wire terminals labeled with letters. If a wire is connected to the "C" terminal, you have a c-wire.
Nest Sensor
Before you install your sensor, there are some important things you should know about exactly where to place it, and where not to.
Installing Your Sensor
Option 1: Place it on a flat surface
The sensor has a rubber foot on the bottom so it will sit on a flat surface, like a shelf, without sliding around.
Option 2: Mount it on a wall
Install the screw where you want and hang your sensor using the screw hole on the back. Nest screws are specially designed so you shouldn't need to drill a pilot hole for most installations. You may need to drill a pilot if you're mounting your sensor on a hard surface.
Note: Before mounting your sensor, you may want to use it for a week or two to make sure it's working well in its location. This way, you won't leave a screw hole in the wall if you need to move it.
It's best to place your sensor:
Rooms where you spend a lot of time, such as your bedroom or living room.
About chest high: If you install the sensor too high or too low, your system may overheat or overcool the room. This is because the air is generally warmer near the ceiling and cooler near the floor.
Within 50 feet (15 m) of your thermostat, so they can communicate.
---
A ring color for every home
The Nest Thermostat + Sensor bundle has a ring to fit any home's style. Choose copper to add a warm touch. Stainless steel is perfect for a classic, versatile look. Black blends in with dark walls and stylish decor. And white looks great in simple, modern homes.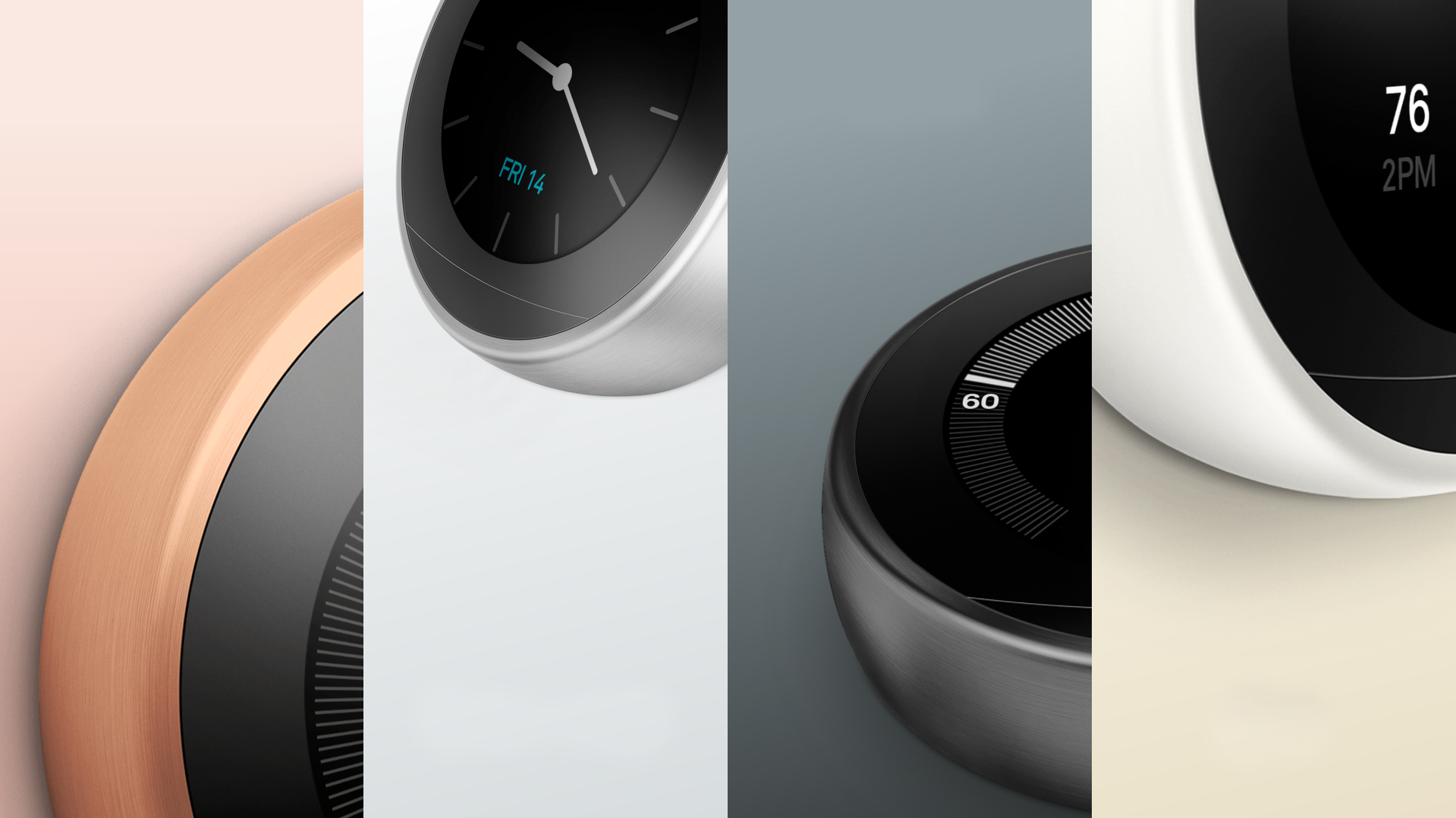 REBATE DETAILS
No rebates available